Technical management
It is of great importance to us to provide technical and operational support to each individual vessel – when and where required.
It is our goal to maintain a continuous improvement in the operation of the vessel thereby setting the standard for each vessel that corresponds to the charterers and owners requests and expectations at any time.
Our extensive maintenance programme shall increase financially and environmentally safe operations for each vessel.

H&M, P&I Insurance
Having a wide range of insurance contacts we are able to provide competitive prices on the following:
Hull and Machinery insurance cover
Protection and Indemnity cover
Insurance for Transportation of various goods
It is a vital parameter that the insurance cover always reflects the needs, trades and preferences of each vessel in order to meet the expectations of the owners and charterers.
Classification
Through constructive dialogue with a number of classification bodies we are able to organise and coordinate classification matters and questions on a daily basis.
We give very high priority to maintain all vessel certificates – keeping the following in mind:
Coordinate surveys ensuring minimal interference with the operation of the vessel
Arranging surveys in due time enabling the crew and classification body to take proper measures to achieve a smooth and quick inspection.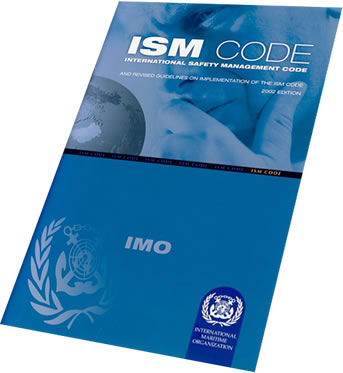 ISM
Our ISM manual has been made with the following in mind.
Easy to use
Easy to read
A helpful tool in the daily operation – onshore and onboard the vessel
Fulfilling the modern way of reporting, filing and communicating.
The above parameters are essential as reporting and logging onboard vessels today has reached a very demanding level.
Furthermore we are able to assist with the implementation of ISM systems; update and shape the system to fit the individual needs, maintain the system and perform ISM audits etc.
ISPS
International Ship and Port facility Security Code (ISPS)
We are pleased to offer our assistance with the development and implementation of ISPS.
Company policy and responsibilities, company security organisation etc.
Ship general arrangements, authorised access points, restricted areas, escape and evacuation routes, existing security equipment/systems etc.
Ship access as well as access within the vessel.
Threat evaluation and risk assessment
On sight security survey onboard the vessel including evaluation of communication, embarkation of personnel, cargo and storage handling as well as contingency plans.
The ISPS Code has to be implemented by 01.07.2004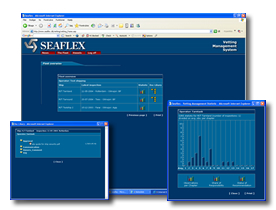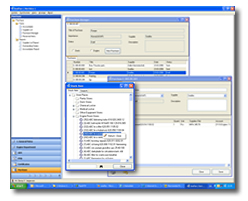 SeaPlan Management System
Feel and look as MS Outlook
Exchange of data between ship and office 4 times a day.
Planned Maintenance System
Stock and Purchase
Certificate Management
ISM Manual
Alerts Office if items are overdue
Budgets
For a successful operation of vessels today it is essential that all equipment onboard each vessel is working satisfactory and that all equipment is reliable and is fully functional at any time. This requires good planning and maintenance.
To meet the above prerequisites we issue an annual budget for each vessel. The following terms taken into account.
Classification status, including National and International regulations and requests.
Manufacturers' maintenance recommendations along with our experience for the various equipment.
Docking status and schedule
Improvements, conversions and renewal of equipment
The budgets are partly based on information given by officers of the vessel and partly based on the experience of Seaflex.
The budgets are always subject to owner's approval and comments.